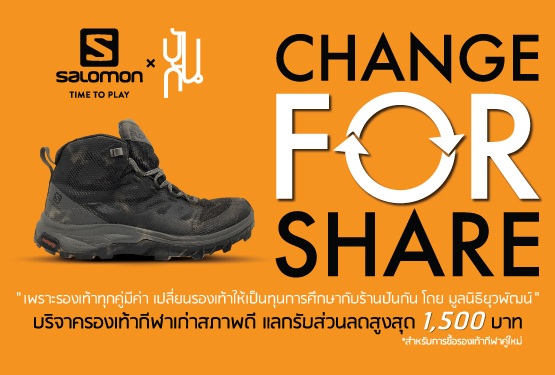 The "Change for Share" project (Salomon Thailand x Pankan Society by Yuvabadhana Foundation) has been completed.
Campaign details and conditions:
Second hand multi-sport shoes that are in good condition can be donated and exchanged for cash coupon. Find a shoes drop-off station at participating Salomon stores and make a donation. Then you will receive 1,500 bath cash voucher to purchase a new shoes from Salomon. All shoes donated will be provided to Yuvabadhana Foundation for fundraising for disadvantaged children.
Campaign results as follows
– Salomon Shop Central World 117 pairs
– Salomon Shop Central Festival Chiang Mai 62 pairs
– Total : 179 pairs.
On the 24th February 2022 Salomon Thailand's team delivered all 179 pairs of donated shoes to Pankan Society by Yuvabadhana Foundation.
We would love to take this opportunity to thank you for your great generosity. And we wish you and your family happiness, good health and success in your life.