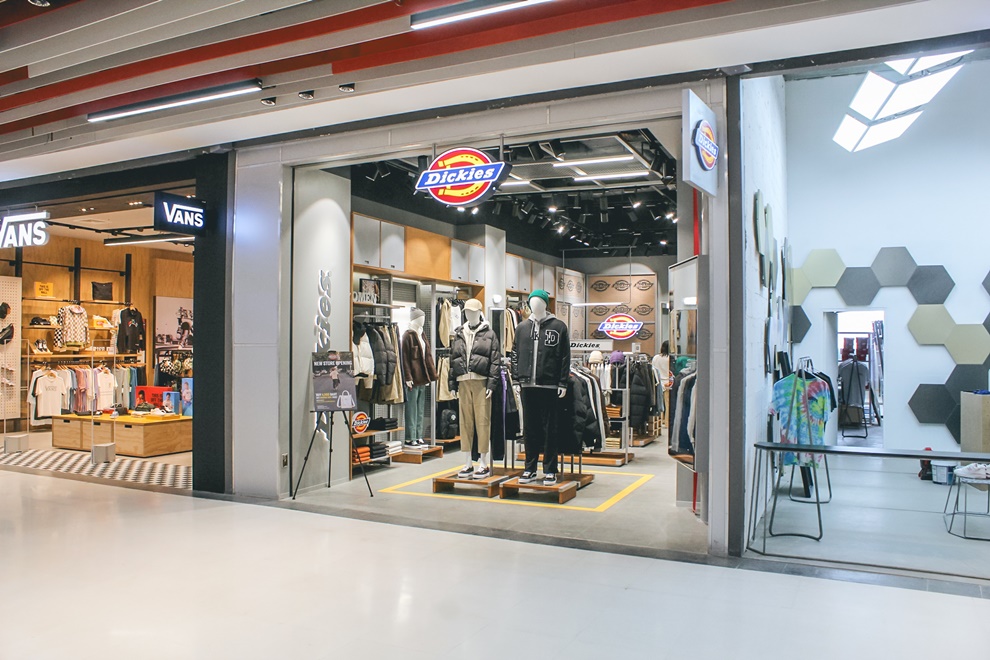 Dickies Opens Another Key Store at The Mall Lifestore Bangkapi to serve customers on the East Side of Bangkok
Under the management of the Thai Outdoor Group, Dickies opens a new flagship store at The Mall Lifestore Bangkapi to cater the customers in the eastern zones of Greater Bangkok. This new location would meet the fashion needs of individuals living in the northeastern and eastern areas of Bangkok.
Inside the store, customers can find a diverse range of Dickies products adhering to the "Work Inspire" concept. These include iconic items like the 874 Original Fit pants, 85283 Double Knee Loose Fit pants, 873 Slim Fit pants, 811 Skinny Fit pants, 42283 Work Shorts, work shirts, denim jeans, bibs overalls, and various other lifestyle products.
Explore the latest Dickies merchandise at The Mall Lifestore Bangkapi, located on the 1st floor.
Stay updated with Dickies news on:
Facebook: https://www.facebook.com/DickiesThailand/
Instagram: @dickies_thai
---
Dickies เปิดสาขาใหม่อีกหนึ่งสาขาหลักที่ The Mall Lifestore Bangkapi เพื่อรองรับกลุ่มลูกค้าในโซนฝั่งตะวันออกของกรุงเทพมหานคร ภายใต้การบริหารงานจากทีมงาน Thai Outdoor Sport เพื่อตอบโจทย์สำหรับกลุ่มลูกค้าในโซนฝั่งตะวันออกเฉียงเหนือและฝั่งตะวันออกของกรุงเทพมหานคร โดยยังคงนำเสนอเสื้อผ้าคุณภาพที่ตอบโจทย์ทุกไลฟ์สไตล์การแต่งตัว สามารถมิกซ์แอนด์แมทช์ได้ในชีวิตประจำวัน
ภายในร้านพบกับสินค้ามากมายจาก Dickies ในคอนเซปต์ "Work Inspire" รวมไปถึงสินค้าระดับตำนานที่ทุกคนรอคอยไม่ว่าจะเป็นกางเกงรุ่น 874 Original Fit, 85283 Double knee Loose Fit, 873 Slim Fit, 811 Skinny Fit, 42283 Work Shorts, เสื้อ workshirt, เสื้อเอี๊ยม, กางเกงยีนส์ และสินค้าไลฟ์สไตล์อื่นๆ อีกมากมาย
สามารถเลือกซื้อสินค้าจาก Dickies ได้แล้ววันนี้ที่ The Mall Lifestore Bangkapi ชั้น1
ติดตามข่าวสารจาก Dickies ได้ทาง
Facebook: https://www.facebook.com/DickiesThailand/
Instagram: @dickies_thai