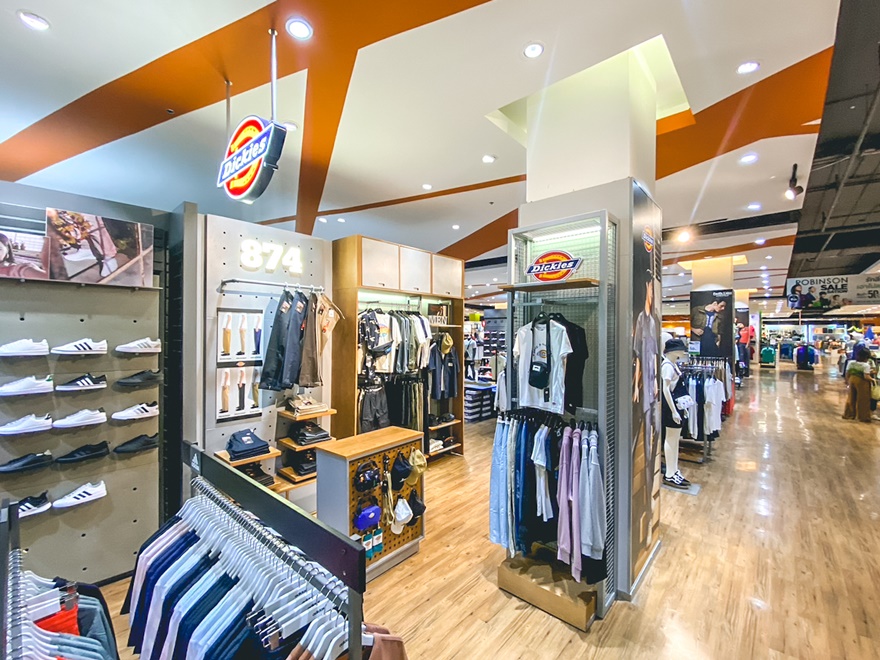 Dickies is implementing strategies to become a leading business, focusing on continuous branch expansion.
For the latest branch within Robinson, Phitsanulok, the concept of "Workwear" clothing remains, which can be worn for work or leisure, matching various lifestyles. Whether it's different styles of pants, t-shirts, jackets, or coordinated color combinations with outfits, it's easy to find at Dickies. We also continue to emphasize signature products such as the 874 Original Fit pants, 873 Slim Fit, 811 Skinny Fit, 42283 Multi-pocket Work Shorts, and many others.
Furthermore, We offer seasonal collections that rotate every month.
Update on the latest fashion trends, available at the Dickies store at Robinson, Phitsanulok, 2nd Floor, Men's Fashion Department.
You can stay updated on trends by following news from Dickies on:
Facebook: https://www.facebook.com/DickiesThailand/
Instagram: @dickies_thai
---
Dickies Shop at Robinson พิษณุโลก ชั้น 2 แผนกแฟชั่นชาย
Dickies เดินกลยุทธ์เพื่อไปสู่การเป็นแนวหน้าทางธุรกิจ โดยมุ่งเน้นการขยายสาขาอย่างต่อเนื่อง สำหรับสาขาล่าสุดที่อยู่ภายใน Robinson พิษณุโลกนี้ ยังคงคอนเซปต์เสื้อผ้าสไตล์ "Workwear"  ที่สามารถสวมใส่ทำงานหรือท่องเที่ยว แมทช์เข้ากันกับหลากหลายไลฟ์สไตล์ ไม่ว่าจะเป็นกางเกงทรงต่างๆ, เสื้อยืด, แจ็คเก็ต พร้อมคู่สีที่แมทช์เข้ากันกับชุดเสื้อผ้าได้ง่าย
และยังคงให้ความสำคัญกับสินค้าที่เป็น signature ต่างๆ อาทิ กางเกงรุ่น รุ่น 874 Original Fit, 873 Slim Fit, 811 Skinny Fit, 42283 Multi-pocket Work Shorts ฯลฯ
มากไปกว่านั้นยังมีสินค้า seasonal คอลเลคชั่นใหม่ๆ ที่จะสลับสับเปลี่ยนหมุนเวียนในทุกๆ เดือน
ชาวพิษณุโลกห้ามพลาดกับเทรนด์อัพเดทเสื้อผ้าก่อนใครได้ที่ Dickies store at Robinson พิษณุโลก, ชั้น 2, แผนก Men Fashion
สามารถอัพเดทเทรนด์ได้ก่อนใครได้แล้ววันนี้ ที่ Dickies ทุกสาขา และติดตามข่าวสารจาก Dickies ได้ทาง
Facebook: https://www.facebook.com/DickiesThailand/
Instagram: @dickies_thai