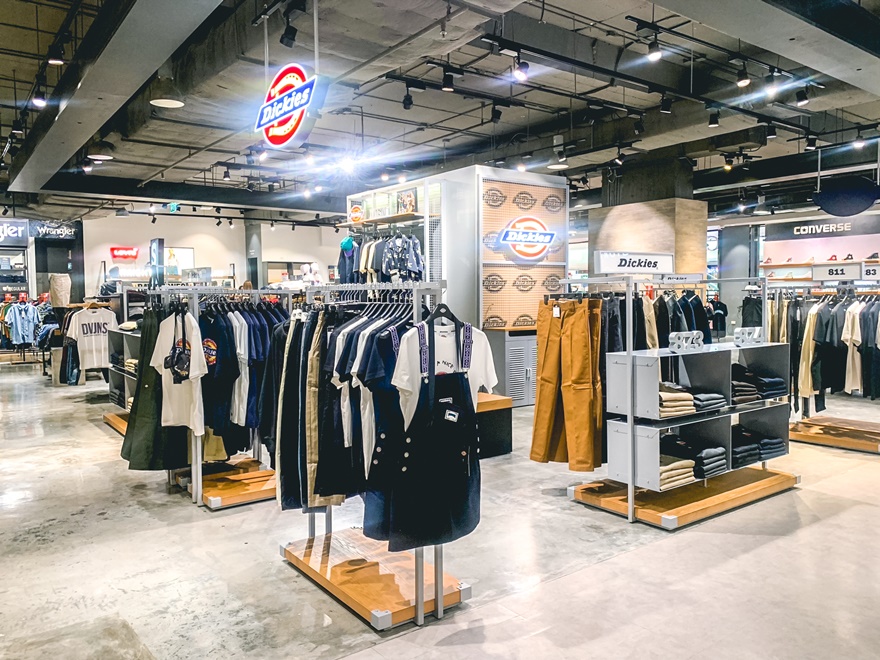 Dickies expands its presence to meet the growing customer base with a new branch on the eastern side of Thailand, located in Udon Thani province at Central Udon on the 2nd floor in the Men's Fashion department.
Continuing its commitment to providing high-quality apparel for everyday wear, Dickies aims to cater to a diverse customer group and accommodate various lifestyles with its workwear designs. The brand recognizes the increasing demand and strives to meet the needs of its expanding customer base.
Inside the store, customers will find a wide range of Dickies products under the concept of "Work Inspire," including seasonal items and signature pieces. Among the offerings are the popular 874 Original Fit, 873 Slim Fit, 811 Skinny Fit pants, 42283 Multi-pocket Work Shorts, and many more.
Stay ahead of the trends by visiting any Dickies store today and follow the latest news and updates from Dickies through their official
Facebook page: https://www.facebook.com/DickiesThailand/
and Instagram account: @dickies_thai
---
Dickies Shop at Central Udon ชั้น 2 แผนกแฟชั่นชาย
Dickies ขยายสาขาอย่างต่อเนื่อง เพื่อตอบรับฐานลูกค้าที่มีการขยายตัวมากยิ่งขึ้น กับอีกหนึ่งสาขาใหม่ในฝั่งภูมิภาคตะวันออกของประเทศไทย ที่จังหวัดอุดรธานี โดย Dickies ยังคงมุ่งมั่นในการนำเสนอดีไซน์เสื้อผ้าคุณภาพที่สามารถหยิบใส่ได้ในทุกวัน กับความเป็น Workwear เพื่อตอบโจทย์กลุ่มลูกค้าที่หลากหลายและรองรับไลฟ์สไตล์ในแบบต่างๆ
ภายในร้านพบกับสินค้ามากมายจาก Dickies ในคอนเซปต์ "Work Inspire" ทั้งสินค้า seasonal รวมไปถึงสินค้าที่เป็น signature ต่างๆ ไม่ว่าจะเป็น กางเกงรุ่น รุ่น 874 Original Fit, 873 Slim Fit, 811 Skinny Fit, 42283 Multi-pocket Work Shorts และอื่นๆ อีกมากมาย ฯลฯ
สามารถอัพเดทเทรนด์ได้ก่อนใครได้แล้ววันนี้ ที่ Dickies ทุกสาขา และติดตามข่าวสารจาก Dickies ได้ทาง
Facebook: https://www.facebook.com/DickiesThailand/
Instagram: @dickies_thai