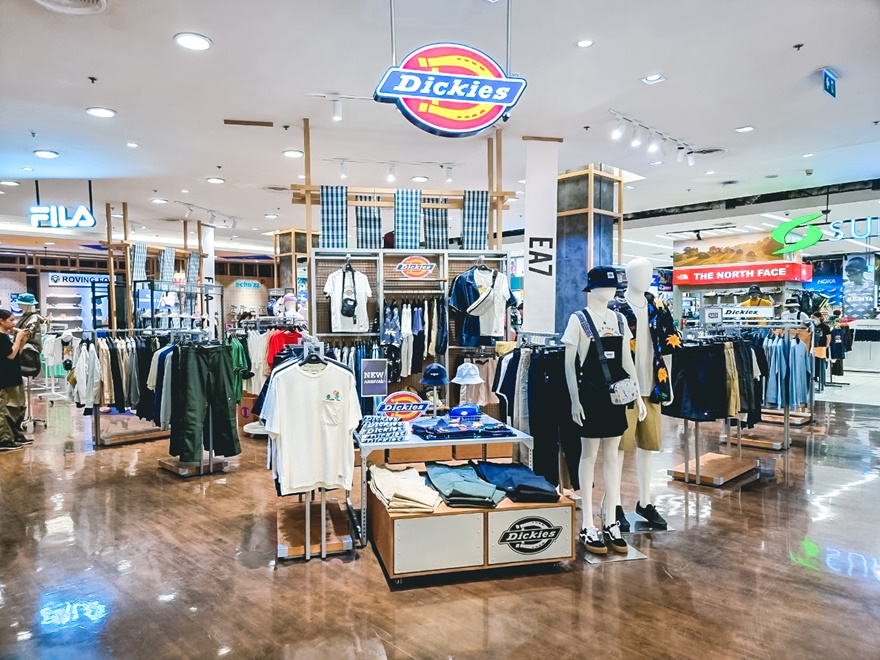 Dickies Shop at Central Khonkaen, 3rd Floor, Men's Fashion Department
Discover our new branch, catering to the growing customer base in Khon Kaen province.
Inside the store, you'll find a wide range of Dickies products in the "Work Inspire" concept. Whether it's signature items like the 874 Original Fit, 873 Slim Fit, 811 Skinny Fit pants, 42283 Multi-pocket Work Shorts, and many more, or the ever-changing selection of seasonal products, we have it all.
Stay updated with the latest fashion trends that can be worn every day, exclusively at Dickies store.
Facebook page: https://www.facebook.com/DickiesThailand/
and Instagram account: @dickies_thai
---
Dickies Shop at Central Khonkaen ชั้น 3 แผนกแฟชั่นชาย
พบกับอีกหนึ่งสาขาใหม่ รองรับกลุ่มลูกค้าที่เพิ่มมากขึ้น ที่จังหวัดขอนแก่น
ภายในร้านพบกับสินค้าจาก Dickies ในคอนเซปต์ "Work Inspire" ไม่ว่าจะเป็นสินค้าที่เป็น signature ต่างๆ อาทิ กางเกงรุ่น รุ่น 874 Original Fit, 873 Slim Fit, 811 Skinny Fit, 42283 Multi-pocket Work Shorts และอื่นๆ อีกมากมาย ฯลฯ รวมถึงสินค้า seasonal ที่สลับสับเปลี่ยนหมุนเวียนในทุกๆ เดือน
อัพเดทเทรนด์เสื้อผ้าที่สามารถสวมใส่ได้ในทุกๆ วัน ก่อนใครได้ที่ Dickies store
สามารถอัพเดทเทรนด์ได้ก่อนใครได้แล้ววันนี้ ที่ Dickies ทุกสาขา และติดตามข่าวสารจาก Dickies ได้ทาง
Facebook: https://www.facebook.com/DickiesThailand/
Instagram: @dickies_thai