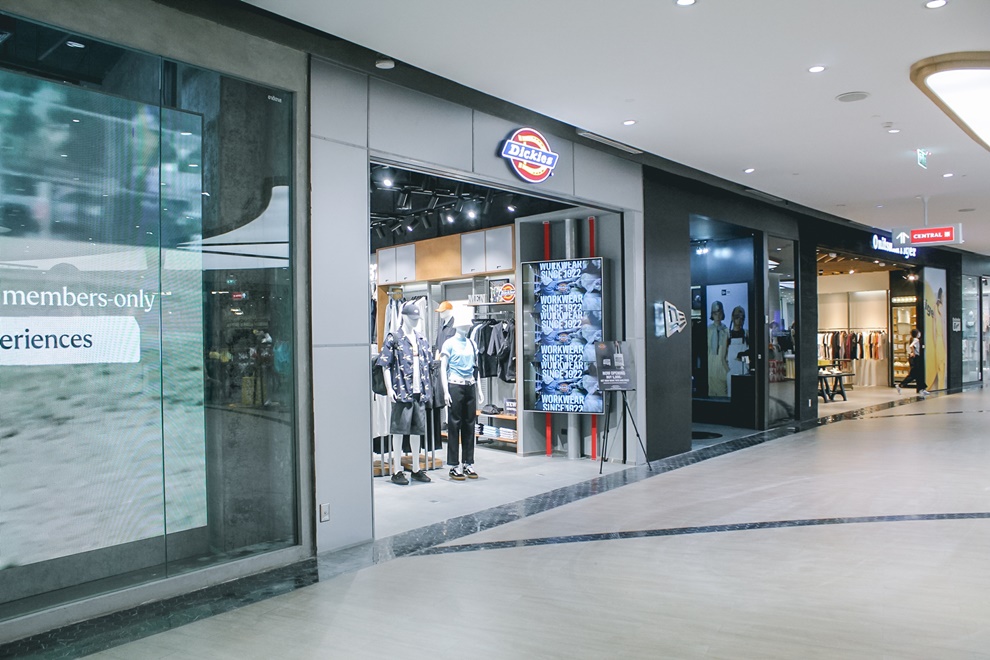 Dickies Shop at Central Phuket Floresta 2nd Floor.
Discover the new Dickies store located on the 2nd floor of Central Phuket Floresta shopping center, which is the 9th branch of the Dickies brand in Thailand. It is the first branch that caters to customers in the southern region and is also a popular tourist destination for foreigners visiting Thailand. Dickies offers high-quality clothing designs to cater to a diverse group of customers and various lifestyles.
Inside the store, you will find a wide selection of fashion products from Dickies, which still follows the "Work Inspire" concept. The products range from pants, jackets, t-shirts, and bags, available in different styles. Additionally, the store offers legendary products such as the 874 Original Fit, 873 Slim Fit, 811 Skinny Fit, 42283 Multi-pocket Work Shorts, and many more.
Stay tuned for the next expansion from us, please follow us on
Facebook: https://www.facebook.com/DickiesThailand/
Instagram: @dickies_thai
---
Dickies Shop at Central Phuket Floresta ชั้น 2
พบกับสาขาใหม่จาก Dickies ที่ศูนย์การค้า Central Phuket Floresta ซึ่งเป็นสาขาที่ 9 ของแบรนด์ Dickies ในประเทศไทย โดยเป็นสาขาแรกที่รองรับกลุ่มลูกค้าโซนภาคใต้และเป็นอีกหนึ่งสถานที่ท่องเที่ยวสำคัญสำหรับกลุ่มชาวต่างชาติซึ่งเรียกได้ว่าเป็น tourist destination สำหรับประเทศไทย โดย Dickies ได้นำเสนอดีไซน์เสื้อผ้าคุณภาพ เพื่อตอบโจทย์กลุ่มลูกค้าที่หลากหลายและรองรับไลฟ์สไตล์ในแบบต่างๆ
ภายในร้านพบกับสินค้าแฟชั่นมากมายจาก Dickies ที่ยังคงคอนเซปต์ "Work Inspire" ไม่ว่าจะเป็น กางเกง, แจ็คเก็ต, เสื้อยืด, กระเป๋า ที่มีให้เลือกหลายแบบหลากสไตล์ รวมไปถึงสินค้าระดับตำนานไม่ว่าจะเป็นกางเกงรุ่น 874 Original Fit, 873 Slim Fit, 811 Skinny Fit, 42283 Multi-pocket Work Shorts และอื่นๆ อีกมากมาย ฯลฯ
สามารถอัพเดทเทรนด์ได้ก่อนใครได้แล้ววันนี้ ที่ Dickies ทุกสาขา และติดตามข่าวสารจาก Dickies ได้ทาง
Facebook: https://www.facebook.com/DickiesThailand/
Instagram: @dickies_thai