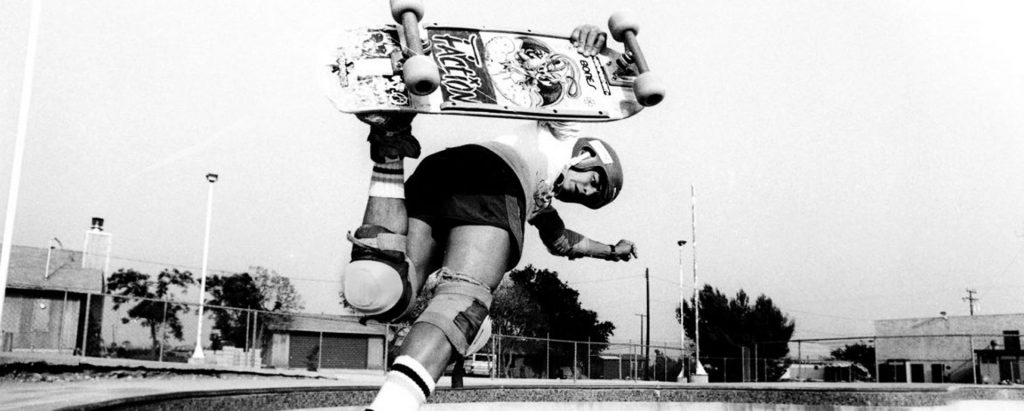 Vans is an American manufacturer of skateboarding shoes, based in Costa Mesa, California, owned by VF Corporation. The company also produces apparel and other products such as t-shirts, hoodies, socks, hats, and backpacks. When The Van Doren Rubber Company first opened their doors in 1966, no one could have guessed the small Southern California store would become the giant success it is today. The Van Doren Rubber Company has since transformed from a single shoe store into the globally-recognized Vans brand. From early legendary skateboarders to the average teen, Vans have been loyally worn for over four decades. Paul Van Doren, founder of Vans, believed that to accomplish something you either have to 'love it or leave it' and that is exactly what he did. Van Doren shaped Vans into the thriving brand it is today without losing touch of its skateboarding roots or his passion for shoes.
         A random doodle by Paul Van Doren would turn to be the signature staple of the Old Skool, originally called Style 36. Paul Van Doren called the doodle his 'Jazz Stripe' and it became Vans' signature mark in 1977.
         Skateboarders like Tony Alva and Stacy Peralta were the first to use the phrase 'Off The Wall'. The story behind the phrase is, Alva and Peralta were at the Santa Monica Vans store talking about the time Tony Alva was skating in an empty pool and while still gripping his skateboard, Alva and his board went airborne above the pool's edge. Skip Engblom, founder of the Zephyr Competition Team, said, "Man, you just went off the wall!" It would become an iconic phrase for Vans and the company started using it on their shoes. Skateboarders were able to differentiate which styles were skate-specific by the 'Off The Wall' logo.
VANS Store Location:
1st  Floor, Street Lab, Siam Discovery  02-658-0022
Room no. D105, 1st fl. Siam Discovery, 989 Rama 1 Rd.,
Pathumwan, Pathumwan, Bangkok 10330
3rd  Floor, CentralPlaza Ladprao   02-050-4150
Room no. 303/1, 3rd fl. CentralPlaza Ladprao, 1693 Phaholyothin Rd.,
Chatuchak, Chatuchak, Bangkok 10900
1st  Floor, CentralPlaza Westgate  02-116-6050
Room no. 160/5B, 1st fl. CentralPlaza Westgate, 199/3 Moo 6, Rattanathibet Rd.,
Sao Thong Hin, Bang Yai District, Nonthaburi 11140
1st  Fashion Island  02-115-6200
Room no. 1024, 1st fl. Fashion Island, 587,589,589/7-9 Ramintra Rd.,
Khannayao, Khannayao, Bangkok 10230
2nd Central Festival Pattaya Beach  038-199-352
Room no. 212, 2nd fl. CentralFestival Pattaya Beach,
333/99 Moo 9, Muang Pattaya, Banglamung, Chonburi 20260
1st  Zpell @ Future Park Rangsit (Robinson Zone), 02-150-9268
Room no. 38, 94 Phaholyothin Rd., Prachathipat, Thanyaburi, Pathumthani 12130

2nd  Central Phuket Floresta , 076-368-066
Room no. 213/1, 199 Moo 4, Vichit, Muang Phuket, Phuket 83000
2nd  CentralFestival Chiangmai , 052-019-909
Room no. 236/1, 2nd fl. CentralFestival Chiangmai, 999/9 Super Highway Rd.
Chiangmai-Lampang, Tambon Fa Ham, Muang Chiangmai District, Chiangmai 50000
3rd  Central World , 02-252-2621
Room no. B320, 3rd fl. Central World, 999/9 Rama 1 Rd., Pathumwan, Pathumwan, Bangkok 10330

---
VANS Shop in Department Store.
2nd  CentralPlaza Ladprao
02-541-1111

2nd  Siam Paragon
02-690-1000

3rd  The Emporium
02-269-1000
3rd  The Mall Bangkae
02-487-1000

2nd The Mall Korat
044-231-000

3rd  CentralFestival Pattaya Beach
038-930-999

3rd  CentralFestival Chiangmai
053-999-499

3rd  Central Chidlom
02-793-7777
2nd   Robinson Udonthani
042-242-777
3rd  CentralFestival Chiangmai
053-999-499
Sport Zone B, King Power Srivaree Complex
02-205-8888
Sport Zone, King Power Phuket Complex
076-397-888

2nd  King Power Suvarnabhumi Airport
02-134-888

3rd  ICONSIAM, (Open Space – Athleisure zone)
02-495-7000 
2nd  Central Pinklao
02-802-9000
2nd  Central Bangna
02-725-5000
3rd  Central Patong
076-600-499
Fanpage : https://www.facebook.com/VansThailand/
Website :  https://www.instagram.com/vans_th/